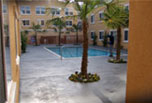 Rancho Santa Fe Village
is a mixed use 120 unit affordable housing project in the city of San Marcos, CA. All units are restricted to affordable rents, and the community is equipped with first rate amenities for Active adults. The residents enjoy the sparkling pool located in the center of the property, and benefit from the convenience of on-site retail shops that include groceries, restaurants, a clothing store, a salon and medical care. Rancho Santa Fe Road has come alive with the addition of this striking structure and colorful center for the community to build around. Resourceful and practical design and energy efficient appliances are some the ways that Rancho Santa Fe Village is environmentally responsible and designed for the twenty first century. The 11,000 square feet of retail space on ground level is complemented by 72 2 bedrooms units and 48 1 bedroom units on three levels, all with easy access to elevators and the ample parking available on the property. Construction was completed on this 21 million dollar project in the fall of 2005 and has since converted to permanent financing on its tax exempt bonds. Visit their website at
www.rsfvillage.com
.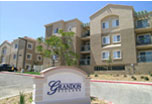 Grandon Village's doors opened to Low income tenants in 2004 and has since become a wonderful place for active seniors to reside. Tax exempt bonds issued by the city of San Marcos, coupled with an allocation of LIHTC have made this 22 million dollar project possible. The comfortable new community and affordable rents provide solution to the rising need for affordable housing for the 55 and over market. Residents enjoy the pool, grounds, and community room addition to easy access to the San Marcos Senior Center branch at Grandon Village. Enhanced Affordable development teamed up with the City of San Marcos to provide a location on the property for a senior center built to serve all seniors in the area. The 161 unit community is a made up of a mix of one and two bedroom units in five buildings spread on 4 acres of land. Visit their website at www.grandonvillage.com.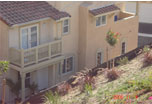 Las Flores Village, a 100 unit new construction development, is part of Enhanced Affordable Development's Home ownership program. Financed with tax exempt bonds and 4% low income housing tax credits, it was completed in fall of 2006 and open to low-income families for rent. After the initial 15 year credit period, Low income residents will have the option to purchase their unit at affordable prices. Las Flores Village is an inclusionary housing project in connection with the construction of 236 Market rate Single family homes on an adjacent lot. The City of San Marcos and combined with Enhanced to produce Las Flores Village as the Affordable component of the site. The 3 bedrooms 2 bathroom townhome style units range from 962 to 1172 square feet, all equipped with a private two car garage and washer dryer hookups. Currently 100% occupied with a waiting list, these units have no comparison in the San Diego's North County in combination of quality and affordable rents. Visit their website at www.lasfloresvillage.com.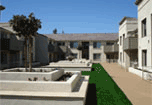 Las Ventanas Villageis a mixed use 80 unit affordable housing project in the city of Escondido. The new construction project features 78 3-bedroom family units, 2 2-bedorom units and 6500 square feet of retail space on Escondido Blvd. Las Venatnas Village is filled with state of the art amenities, indoor parking for all tenants, and is a model for premier affordable housing.
After securing a 3 million dollar loan from the city of Escondido in July of 2006, Enhanced Affordable development carefully oversaw the relocation of the Bellview Mobile home park. The financing for this project is coming primarily through 9% federal Low income Housing tax credits. Wachovia has partnered with Enhanced in this venture as the tax credit investor. The historic preservation of the Escondido Auto electric center, one of the oldest buildings in the city is featured as a highlight of the project. All units in the project are rent restricted for Low income tenants and affordable rents will vary from 30% to 60% of AMI. Visit their website at www.lasventanasvillage.com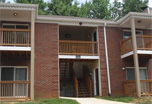 Austell Village Apartments is a 108 unit property located at 1899 Mulkey Road in Austell, Georgia. Situated within Cobb County, the property was originally constructed in 1990 and Enhanced Affordable Development concluded its acquisition of the property in August 2008. The project is set to complete a major interior and exterior rehabilitation of approximately $25,000 per unit in Spring 2009. Austell Village is comprised of 20 one-bedroom units, 68 two-bedroom units, and 20 three-bedroom units in 27 buildings spread out over 9 acres.

Austell Village was financed using Low Income Housing Tax Credits (LIHTC) and a $7 million bond issuance. Austell Village operates as an affordable property with 100% of the units rented at or below the IRC Section 42 rents. The property rents will target all households with incomes of up to 60% of area median income (AMI). The property offers a high-quality, affordable housing alternative for low-income families in the Austell area. Visit their website at www.austellvillage.com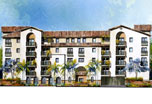 Bonnie Brae Village located at 208 South Bonnie Brae Street in Los Angeles, CA, is a 4-story, approximately 83,900 square foot, 92-unit affordable senior residence over a semi-subterranean parking level with spaces for approximately 46 cars. 45 of the project's 92 units will be reserved for homeless/formerly homeless senior tenants with mental disabilities and/or chronic substance abuse. These tenants will receive supportive services on-site at the property. The remaining 47 units will be available to senior residents earning no more than 50% of the area median income ("AMI"). All units will receive project-based subsidies. On-site services to be provided will include an on-site service coordinator, three on-site case managers, and linkages to healthcare, mental health, dental care, and other mainstream resources. Ongoing training and classes will be provided in the areas of money management, employment educational opportunities, nutrition and cooking, healthcare, and mental health services. In addition to recreation rooms on each floor, the project will have designated rooms and offices for supportive service providers where they will be able to assist tenants.
Financing for the project includes a loan from the Los Angeles Housing Department's Affordable Housing Trust Fund in the amount of $10,342,829 as well as a permanent loan commitment from the California Department of Housing and Community Development's Multifamily Housing Program for $6,450,480. The City of Los Angeles issued a $16.5 million bond issuance to fund the project during construction and permanent phases, for which Citibank provides the credit enhancement. Enhanced has also partnered with PNC, who provided the equity for the low income housing tax credits for this project. Visit their website at www.bonniebraevillage.com